Hi there, hope you're enjoying the site. We just wanted to let you you know that we may collect a share of the profits if you go on to buy a product after clicking one of the links, images or buttons on this page.
Let Our Guide Show You Which Type Of Juicer Would Suit You Best
Masticating juicer or cold press – which should you choose? This is a trick question because they both refer to the same thing. A masticating juicer is often called a cold press juicer or even a slow juicer because its motor is slower and it generates less heat than conventional juicers.
Most people prefer cold press models, but they typically come at a higher price than your typical centrifugal juicer.
Why should you choose this type of juicer?
More Nutrients: The primary reason why people prefer masticating juicers over centrifugal juicers is because they preserve more nutrients. Centrifugal juicers have high-speed motors that generate quite a bit of heat. This heat can destroy some vital nutrients (like vitamin C) and enzymes that make juice so healthy.
More Juice: Not only do you get more nutrients with a cold press juicer, but you also get more juice. These models actually squeeze the produce by pressing it up against a disc. The squeezing action extracts more juice than high-speed models that simply chop up the produce and extract juice that way. In fact, cold press juicers typically deliver 35% more juice (on average) than centrifugal models.
Less Foam: Cold press juicers produce less (sometimes no) foam. Foam is (more or less) air bubbles that can cause gas if consumed. The foam also contains some of the oxidized juice that isn't as nutrient-rich as the rest of the juice.
To recap: masticating juicers and cold press juicers are exactly the same thing. And they're preferred over centrifugal juicers because they generate less heat.
To help you find the right masticating juicer for your home, we're going to review five of the best models on the market.
The Best Cold Press Juicer Reviews for 2020
Tribest SW-2000-B Slowstar – The Tribest Slowstar juicer features a convenient vertical design and comes at an affordable price. With the included attachment and slow juicing speed, this is one of the best cold press juicers around.
The Slowstar features a double-edged duoblade Ultem auger and a slow speed of just 47 RPM (one of the slowest speeds we've ever seen). The 200-watt motor works with the three-stage speed reduction gears to extract the most juice possible without generating too much heat.
An included mincing attachment lets you make purees, sorbets and even nut butters with one simple appliance. And nearly all components of this juicer are BPA-free.
Because of its vertical design and extremely slow speed, this is the cold press machine you want in your kitchen.
Hurom HU-100 Masticating Slow Juicer – The HU-100 from Hurom is another vertical cold-press juicer that extracts about 35% more juice from produce than conventional high-speed juicers. The design of this juicers uses Hurom's cold-pressing system that actually squeezes the produce without generating heat. The cold press action preserves the nutrients that would otherwise have been lost with high-speed juicers.
Using just 150 watts of energy, this juicer generates 80 RPMs – on par with most slow juicers on the market today.
Aside from produce, you can also process nuts, and create milks, sauces, marinades and even baby food.
The compact design of this model makes it a great choice for smaller kitchens, and is available at a more affordable price than the SlowStar.
Omega J8006 – Omega is one of the most popular brands in the cold press juicing industry, and the J8006 is one of the more affordable options. But unlike the other two models on this list, this one features a horizontal design.
The powerful motor of this masticating juicer delivers 80 RPMs, and eliminates foaming, clogging and heat. The auto pulp-ejecting function also allows for uninterrupted juicing, so you can juice as much or as little as you want without having to continuously stop to dump the pulp jug.
Attachments are included with this model, too, that allow you to make pasta noodles, breadsticks, baby food, frozen desserts, ground coffee, and purees.
Breville JE98XL – Full disclosure here: The Breville JE98XL isn't actually a conventional masticating juicer. However, it does have a dual-speed motor that does move at a slower speed, so you're getting something very similar to a cold press juice.
The 850-watt motor offers two speeds – low and high – so you can easily juice both soft and hard produce. There's also an extra-large 3" feed chute built into this machine, so you can juice whole fruits and vegetables with ease. If the idea of spending 5-10 extra minutes prepping produce turns you off, this is the juicer you want.
The 1 liter jug allows you to produce plenty of juice, while the large pulp jug allows you to juice for longer without having to stop.
Omega J8003 – The J8003 from Omega is similar to the J8006 we reviewed earlier, but it is a more economical model. This model is considered a commercial masticating juicer, but it will work perfectly for home use.
The 1/3-HP motor allows for slow juicing and delivers just 80 RPM. You won't get any foam, clogging or excess heat with this model thanks to the two-stage juicing system.
The J8003 offers a higher juice yield than most conventional juicers, and the auto pulp-ejection makes it easy to continue juicing without interruption.
Like other Omega models, this one comes with attachments that allow you to create breadsticks, pasta, nut butters and other things. This is a highly versatile machine, and one of the best in its class.
Buyer's Guide – Cold Pressed Juice Vs a Juicer: Which Is the Best for You?
We know that masticating and cold press juicers are exactly the same thing, but how do you find the right model for your home? There are quite a few things to consider when narrowing down your choices: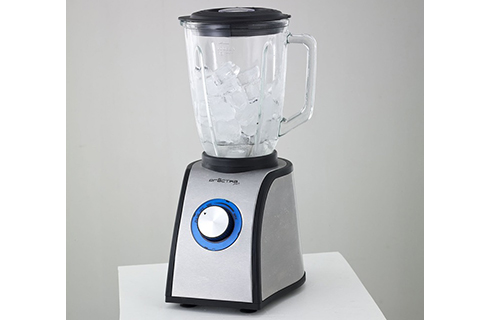 Size: Don't underestimate the importance of size. Some juicers can be quite large, so you need to make sure that you have enough space to store the model you're considering. Check the product description for the juicer's dimensions before making a purchase.
Vertical or Horizontal: Cold press juicers come in both vertical and horizontal designs. Vertical models are usually more compact in size and a bit easier to work with when making juice for individual glasses. Horizontal juicers take up a little more space, but may have more attachments that add to the versatility of the machine.
Speed: Masticating juicers are naturally slow, but some models are slower than others. The first model on our list (the Tribest Slowstar) offers an ultra-slow speed of 47 RPM, while the Omega juicers offer a bit faster speed of 80 RPMs. The slower the speed, the lower the heat buildup, which helps preserve nutrients.
Versatility: You may also want to consider the versatility of the machine. Can you also use it to create nut butters, purees and other foods? Versatile juicers let you tackle different tasks with one simple machine.
Price: Finally, consider the price of the juicer. Masticating juicers can be more expensive than centrifugal juicers, so keep that in mind. With that said, there are several models that fit firmly into the mid-range range if you're on a tighter budget.